hd_familyfest
! :)
Title:
Coming Home
Artist:
prayer_at_night
Pairing(s):
Harry/Draco
Rating:
G
Disclaimer:
All Harry Potter characters herein are the property of J.K. Rowling and Bloomsbury/Scholastic. No copyright infringement is intended.
Warning(s):
implied former mpreg
Epilogue compliant?
not one bit
Media:
Derwent Graphik Line Maker pens 0.05 and 0.2, white coloured pencil, white and green gel pens, on craft paper
Artist's Notes:
...I only did this for the lovely
digthewriter
! ;D But it sure was fun! (I still love my Snarry most, though ;) )
Summary:
When Harry finally came home from his eight week long International Auror Exchange in Saudi Arabia, all he wanted was to hug his husband and son and have a quiet day with them. How very unfortunate that Ayden didn't recognize the strange bearded man invading his home.
Originally posted here at the community:
Coming Home
(
And now also available under this cut. ;)
Collapse
)
I also earned myself a banner! <3 (Thank you,
digthewriter
!)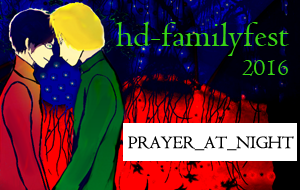 Sooo, now that the masterlist is posted, I can claim my art from
Current Location:

at home

Current Mood:

content

Current Music:

Mumford and Sons - Lover of the Light